Hello there, Miss Indie readers, I'm Danielle of
Ghosts Waltz
. Since Mandy is off having adventures in Las Vegas, I thought I would share a few of my favorite things to do in Sin City that are decidedly less sinful than the usual. I'm not big on gambling, but I still love visiting Las Vegas because there are so many fun things to do that don't involve slot machines or dark, smoky rooms. Here we go...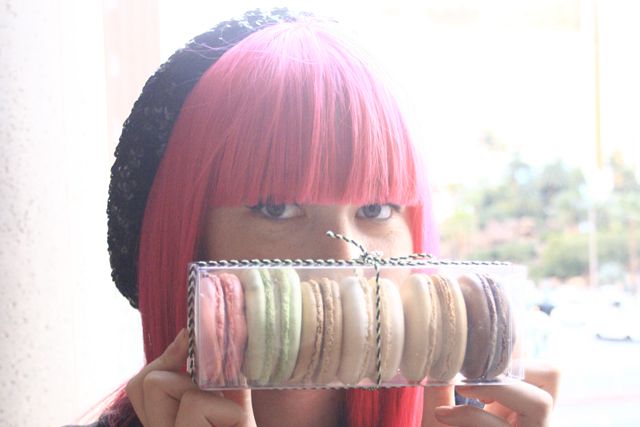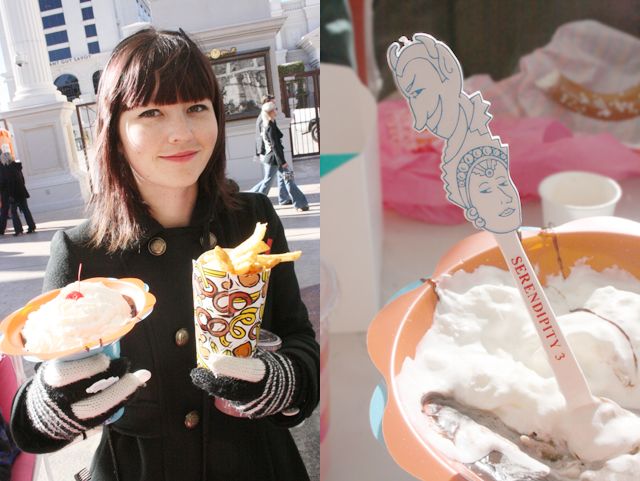 Sample some sweet treats.
The Venetian is my favorite hotel on The Strip, not only because the interior is sort of like a Disneyland version of Venice, but also because their
Bouchon Bakery
has some of the most delicious macarons I've ever tasted. Plus, they're way bigger most macarons I've seen. I absolutely must grab a box of them every time I'm in town. The other place I love to visit for dessert is
Serendipity 3
, for their very tasty ice cream. They're also pretty well known for their trademark frozen hot chocolate. If you go and want to eat inside, be prepared for a long line, or you can order from the outside window, which has a slightly limited menu but is still wonderful.
See history up close.
I have gone to see the Luxor's
Titanic Artifact Exhibition
twice, and I would definitely go back a dozen times more. The exhibit is fascinating and moving, to say the least. There are hundreds of items recovered from the ship, including personal belongings of passengers, and pieces of the ship itself. One of the most amazing things on display is the Big Piece, a large salvaged piece of the hull. There is a full-scale recreation of the Grand Staircase, the outer deck, and a few other parts of the ship. Unfortunately, photography is not allowed, but still this is one experience that I highly recommend.
Take silly photos with wax celebrities.
Some of the best pictures we've taken in Las Vegas are from
Madame Tussauds
Wax Museum. You can get right up close to the wax figures, and some of the displays even have props and costume pieces for you to use for photos. They add new celebrities fairly regularly, but they still have the classics like Elvis and Marilyn. My husband Jose is much better at posing with the figures than I am; I still laugh when I see some of the ridiculous things he's done in his pictures. We always leave Madame Tussauds with our faces and stomachs hurting from laughter.
Watch dolphins play.
I loved going to the Mirage's
Secret Garden and Dolphin Habitat
; I could probably sit and watch the dolphins swim and jump all day! You can also see them beneath the water's surface in the underwater viewing area. The Secret Garden portion of the park houses a variety of big cats: lions, tigers, panthers, and leopards.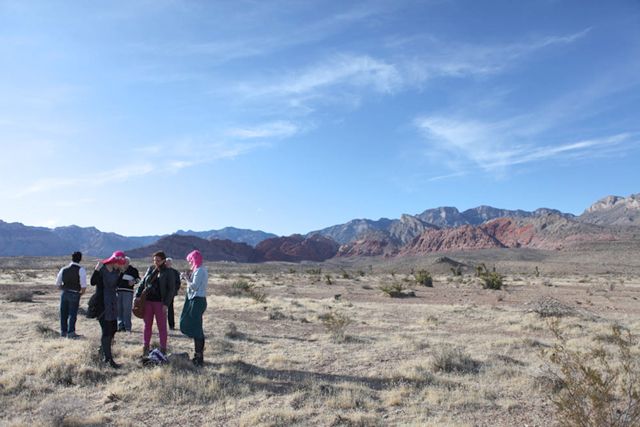 Venture out to the desert.
The last time we went to Las Vegas, we took a drive out to the desert with
Lisa Devlin
,
Amy Bartlam
, and
Kat Williams
to shoot some photos. It's nice to get away from all of the bright lights and pushy salespeople for a bit, and it's so beautiful out there! Though if your experience is anything like ours, you might run into some random, angry drunken people out in the middle of nowhere, but hopefully that's not a normal thing. The first desert photo was taken by Amy and the second by Lisa.
Whatever you might decide to do if you find yourself in Las Vegas, be sure to take lots of pictures! Have you been to the city? Is there anything you think is a must-see when you're visiting? I'd love to know about it!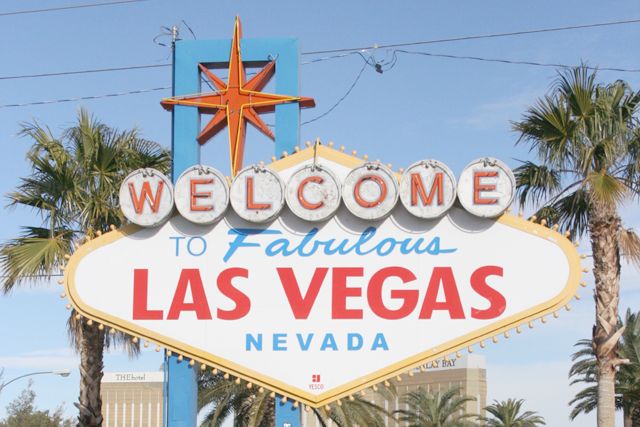 ♥ ♥ ♥ ♥ ♥ ♥ ♥ ♥ ♥ ♥
♥ ♥ ♥ ♥ ♥ ♥ ♥ ♥ ♥ ♥
♥ ♥ ♥ ♥ ♥ ♥ ♥
♥ ♥ ♥ ♥ ♥ ♥ ♥
I was so excited to read this post! I've never done any of these things, so I am really excited to cross these things off my to-do list. I've always wanted to try macarons! Driving out to the desert sounds like a blast, and ice cream at Serendipity? Oh my goodness, sign me up! xo mandy